Well well well.... where have I ended up now? San Jose?!? Wait, what do you mean its been 8 years?!! After a long wait because of personal things I wont get into.... FINALLY... RYU HAS COME BACK TO FANIME!!!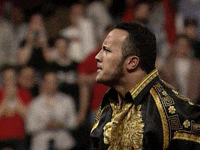 *raises eyebrow*
After much debate and a lot of thought I would make my return. At first I was outright saying that I wouldn't because my then girlfriend wouldn't be able to make the trip and the initial guest announcements didn't interest me as much until two big names were dropped: Aya Hirano AND Nobutoshi Canna. I wanted to rectify the mistake I made back at Anime Expo 2007 and not realizing how much I would go on to love and adore
Haruhi Suzumiya
and Haruhism as a whole thus trying to get the SOS Brigade's autographs and being denied as I was cut off from the autograph line.
I would not miss the 2nd attempt at getting our goddess and saviors autograph again
This trip would begin on a Wednesday evening right after I got off my shift at Sherwin-Willams. I would hit the road after spending time and then saying good bye to my then girlfriend. 6pm hits and I'm already behind schedule. Luckily i was able to fill my recently obtained Benz and hit the road down I-5 to Sacramento. To my surprise I think I beat my record and got there in four and half hours compared to the usual five hour slog. Happy that my car and I made it, Matt and I would go to celebrate with some late night In-N-Out, to to mention I haven't eaten since noon that day. We would go back to his place down the road and call it a night.
6am hits and despite not wanting to be up that early with my body and its internal clock, Matt wakes me up with his normal routine of morning radio and we begin to prep his Corolla with luggage and props. Matt would insist on getting dumplings for breakfast which I was confused on why we were getting Chinese dumplings in the morning, but he said to trust him and to my surprise they weren't so bad. We go to get Dutch Brothers in Davis before heading over the new Bay Bridge to hit San Francisco. After a long drive I would want to hit Japantown to see if I saw any anime merchandise I wanted and to get my ex's Yukata.
I held out as far as merchandise went but got the yukata she wanted and we left SF for San Jose but making a detour to Stanford to eat at somewhere I've wanted to try for a long time: Shake Shack.
The front of Shake Shack in Palo Alto
I've meant to go to the one in Los Angeles the last two times I was there but now that I'm here it was time to end the longtime debate: who's burger reins supreme within the big three: Five Guys, In-N-Out, or Shake Shack. Despite how well the burger was cooked and flavored, it ranked #2 under the Double-Double. The concretes was good though and I was disappointed that the secret peanut butter burger was discontinued because any peanut butter item was also discontinued.
A view from our hotel room on the 9th floor
After a nice lunch it was time to check into the room and initially establish ourselves. Thankfully, we no issues as we got up quickly to find out our roommates next door were longtime friend and master of Marriott rooms Mr. Rose aka Katsu. We would hang with some friends before getting fellow blog associate Ray and go grocery shopping. By now after continuous walking my foot was beginning to throb but I soldiered on and kept going.
It's night time and wanting to end Day Zero on a very night note, we hit another spot that I've failed to go during my times in San Jose: Iggy's aka Iguana's Burritozilla. With no issue I ate the 2.5lb burrito that was 5lbs that Matt and I split, wondering if I could eat a whole one myself (which I would probably answer "yes"). I would try to go to swap meet after getting back but realized I forgot my badge and would call it a night to anticipate Day One and the start of the convention.
This ends Day Negative Zero and Day Zero coverage.